by submitting this form you agree to be contacted via text/phone/email.
Offer can not be combined with any other offers.
COOLSCULPTING FAT REDUCTION | FREEZE FAT IN WESTCHESTER
CoolSculpting is a non-invasive fat reduction option. It utilizes innovative cooling technology to safely eliminate fat cells by freezing them to death. Treatments take as little as 35 minutes to complete. There is little to no downtime. Moreover, the results are long lasting. Join the millions of women and men who have sculpted a slim, contoured physique. Schedule your complimentary consultation today, call (914) 600-3479.
Altman Aesthetic Center is proud to offer the newest experience in fat-freezing technology with the introduction of CoolSculpting. CoolSculpting builds on the revolutionary technology of CoolSculpting Legacy, insuring the same amazing slimming and sculpting capabilities.  However, upgrades to the existing technology now create even more ease and fine-tuned, fat reducing results. CoolSculpting debuts with new dual-CoolSculpting capabilities and an updated applicator design.
The redesigned C-Curve applicators hug the contours of your body even more closely allowing for 18% more cooling coverage in the area being treated. The addition of a secondary CoolSculpting hand-piece now allows for dual-sculpting, the ability to treat two different areas of the body at the same time. These new upgrades will get you to your stunning final results even quicker than before. To learn more about the benefits of body contouring with the new CoolSculpting treatment, schedule your free consultation today or call give us a call at (914) 600-3479.
18% MORE FAT FREEZING COVERAGE
MOST ADVANCED TECHNOLOGY FROM COOLSCULPTING
DUAL APPLICATORS FOR A FASTER TREATMENT
THE ADVANTAGES OF COOLSCULPTING
Reduce fat without surgery
Little to no downtime
FDA cleared + proven by science
35-minute treatments
High safety profile
Long-term fat reduction
COOLSCULPTING BEFORE AND AFTER*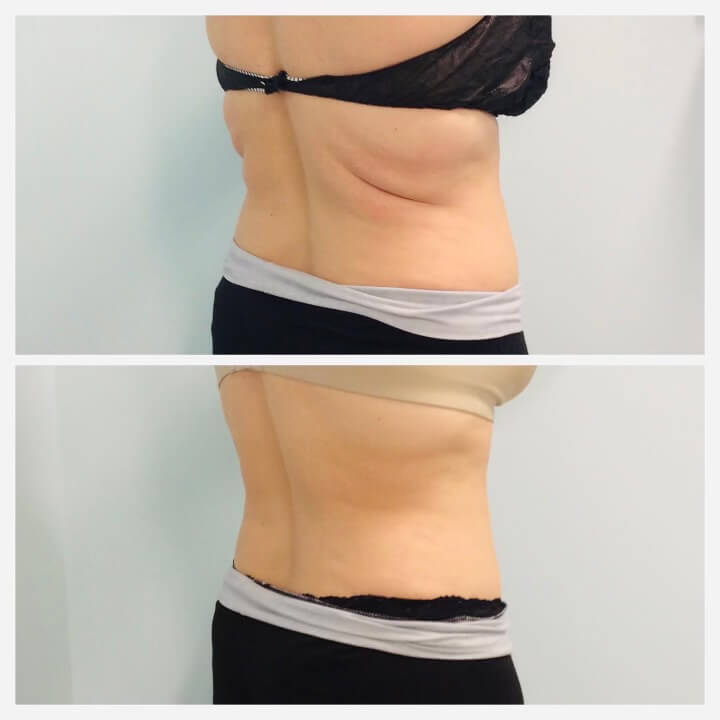 To see the slimming, contouring effect of fat freezing, look no further than CoolSculpting before and after images. As with any body contouring option, results may vary.*
THE SCIENCE OF FREEZING FAT
The science behind CoolSculpting is called Cryolipolysis—the scientific term for cold induced (Cryo) fat cell (lipo) death (lysis.) The innovative CoolSculpting machine isolates stubborn bulges and chills them with advanced cooling technology. The skin and surrounding tissue remain undamaged. However, the underlying fat is fatally chilled.¹
When fat cells "freeze," their cellular structure becomes permanently damaged. The cells can no longer store fat, triggering the lymphatic system to collect the frozen fat cells. This process can take several weeks until the fat cells are metabolized and excreted from the body as waste.²
The body does not replace fat cells that are excreted from the body (fat cells cannot grow back.) This is how fat reduction treatments deliver long lasting results.³
COOLSCULPTING PRICES
CoolSculpting cost varies. Prices fluctuate in relation to the customized features of your individual treatment plan. Your free consultation from Altman Aesthetic Center will cover CoolSculpting cost in more detail. As the premier body contouring facility in Westchester County, we offer new clients up to 50% off 8+ treatments. If fat freezing is right for you, we will tailor your treatment plan to your body, goals, and budget.
Fat Freezing Special: Sign up for a complimentary consultation and receive $1100 off your CoolSculpting package.
COOLSCULPTING TREATMENT AREAS
Altman Aesthetic Center offer fat freezing treatments using the newest line of CoolSculpting applicators. These include the CoolMini, designed to reduce submental fullness (neck fat or a double chin.) In addition to treating more areas, the new applicators reduce treatment time to 35-minutes. They also improve comfort and decrease downtime.
Fat freezing is an excellent solution for nearly any stubborn bulge found on the body. With the full line of CoolSculpting applicators, Altman Aesthetic Center offer:
CoolSculpting belly fat
CoolSculpting hips and love handles
CoolSculpting thighs
CoolSculpting neck fat
CoolSculpting double chins
CoolSculpting bra bulge (armpit fat)
CoolSculpting arms (upper arm fat)
CoolSculpting back fat
HOW MANY COOLSCULPTING TREATMENTS WILL I NEED?
The total number of CoolSculpting treatments needed for optimal results depends on several factors. These factors include:
Your specific body shape and size.
Your aesthetic goals.
The treatment areas you select.
The best way to learn how many treatments you will need is to schedule a complimentary consultation. During your CoolSculpting consultation, you will speak with an expert technician. This individual listens to your specific aesthetic goals and accesses your body to help design the perfect treatment plan to address your needs.
COOLSCULPTING SIDE EFFECTS AND RISKS
CoolSculpting is a safe, non-invasive alternative to fat reduction procedures like Liposuction. Fat freezing achieves continual praise for its high safety profile and minimal risks. "Safety, Tolerance, And Patient Satisfaction With Noninvasive Cryolipolysis," a clinical study concludes "cryolipolysis is a safe, well-tolerated, and effective treatment method for [fat reduction]." Another clinical studyⁱ confirmed these findings saying, "cryolipolysis is considered to be both safe and efficient with a high patient satisfaction rate."
This popular fat reduction treatment also has limited side effects. While side effects are unlikely, it is common for patients to experience symptoms associated with a typical immune response. When the lymphatic system begins collecting the dead cells, this can trigger an immune response. Common symptoms include tenderness, redness, numbness, or bruising around the treatment area. These symptoms are mild and clear up on their own in a few days.
COOLSCULPTING FOR MEN
More men are turning to fat freezing to help improve their self-confidence and achieve a more contoured body. CoolSculpting is not just an effective fat reduction treatment for women, but men also significantly benefit from fat freezing. This non-invasive procedure helps men struggling with diet and exercise-resistant fat cells that notoriously gather in specific areas on the male body, like the chest.
CoolSculpting helps men avoid embarrassing "moobs" or man boobs. CoolSculpting can significantly improve pseudogynecomastia, the medical term for moobs or man boobs. This was shown with a publication in the Journal of Dermatological Surgery. The paper, titled "Cryolipolysis for Targeted Fat Reduction and Improved Appearance of the Enlarged Male Breast" found "95% of men participating in the study saw visible reductions in fat." In addition, patients demonstrated improvements in the overall appearance of "breasts," after two CoolSculpting treatments. This led researchers to conclude that CoolSculpting provides "a safe, effective, and well-tolerated non-surgical treatment of pseudogynecomastia."
WHY CHOOSE ALTMAN AESTHETIC CENTER?
CoolSculpting results are dependent on the experience and expertise of the technician performing your treatment. Knowing that fat freezing is a technique-sensitive procedure, discerning patients living in Westchester or Southern Connecticut choose Altman Aesthetic Center for their CoolSculpting treatment.
Innovative Techniques and Technology
Altman Aesthetic Center is a state-of-the-art body contouring facility. The center is distinguished in Westchester County for being the first medical spa to offer groundbreaking technologies in body contouring. For example, Altman Aesthetic Center is among the elite group of professionals chosen by Allergan to introduce CoolTone—the new muscle building treatment—to the market.
Medical Professionals that Care
Along with providing patients with the newest technologies and the most advanced techniques, Altman Aesthetic Center also pride itself on exceeding patient expectations. All treatments are performed by (or under the direct supervision of) Board Certified Physician Dr. Liviu Saimovici, MD. Dr. Saimovici genuinely cares about the well-being of each patient and will offer honest, considerate guidance to connect individuals with the treatment that is best suited for their needs and expectations.
Conveniently located in Purchase, NY, Altman Aesthetic Center is proud to serve the surrounding communities of Rye, Ryebrook, Mamaroneck, New Rochelle, Scarsdale, Stamford, CT, Greenwich CT, and White Plains.
If you feel ready to reclaim the confidence that comes with a slim, sculpted body, CoolSculpting may be right for you. Find out by scheduling a complimentary consultation with Altman Aesthetic Center. Call (914) 600-3479 or fill out the form below to contact the center online.
by submitting this form you agree to be contacted via text/phone/email.
Offer can not be combined with any other offers.
Disclaimer:
**CoolSculpting® Elite is FDA-cleared to treat visible fat bulges in 9 areas of the body. Some common side effects include temporary numbness, discomfort, and swelling.
*Promotions: 50% off CoolSculpting can only be applied to the purchase of 8+ treatments. Promos cannot be combined with other offers. Exclusions apply.
*By submitting this form you agree to be contacted by Altman Aesthetic Center and receive marketing messages via phone, text, or email. You can unsubscribe from these communications at any time. We commit to protecting and respecting your privacy. For more information, please review our Privacy Policy.
*Results may vary. We are reputable for complete customer satisfaction for completed treatments. Before and after images reflect real results from real patients, although individual results may vary. No treatment is promised to provide permanent results. A guarantee is neither provided nor implied. Statements estimating treatment duration and the number of treatments required are based on the typical experience of our patients, however, individual experiences may vary.
by submitting this form you agree to be contacted via text/phone/email.
Offer can not be combined with any other offers.
COOLSCULPTING
CERTIFIED PROVIDER